Chester Gordon Bell
Born August 19, 1934, Kirksville, Mo.; DEC designer of the PDP line of computers; with wife Gwen, founder of the Computer Museum, Boston.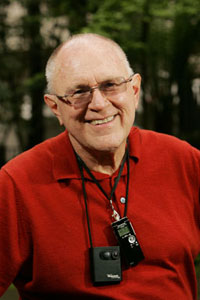 Education: BSEE, MIT, 1956; MSEE, MIT, 1957.
Professional Experience: research engineer, Research Laboratory for Electronics, MIT, 1959-1961; manager, computer design, Digital Equipment Corp. 1961-1966; associate professor of computer science: Carnegie-Mellon University, 1966-1978; professor, electrical engineering and computer science, 1978; senior consultant, Stardent Computers, Sunnyvale, Calif.
Honors and Awards: Mellon Institute Award, Carnegie Mellon University, 1973; fellow, IEEE, 1974; IEEE W. Wallace McDowell Award, 1975; National Academy of Engineering, 1977; IEEE Computer Society Pioneer Award, 1980; ACM/IEEE Eckert/Mauchly Award, 1982; National Medal of Technology, 1991; IEEE John von Neumann Medal, 1992.
Bell's citation for the award of the IEEE Fellowship reads: "For contributions to the design of time-sharing computer systems, and for education in the understanding of computer structures."
Bell designed the first minicomputers and time-sharing computers at Digital Equipment Corp., and led the development of the company's VAX minicomputers. His other achievements include start-ups at Encore Computer, where he was responsible for one of the first multiple microprocessors, and at Ardent Computer, where he built the first graphics supercomputer. A director of several companies and a cofounder of the Computer Museum in Boston, Bell has received many prizes. President George Bush awarded him the National Medal of Technology "for his continuing intellectual and industrial achievements in the field of computer design, and for his leading role in establishing cost-effective, powerful computers that serve as a significant tool for engineering, science, and industry."
BIBLIOGRAPHY
Biographical
Slater, Robert, Portraits in Silicon, MIT Press, Cambridge, Mass., 1987, Chapter 19.
Significant Publications
Bell, C. G., and A. Newell, Computer Structures: Readings and Examples, McGraw-Hill, New York, 1971.
UPDATES
Portrait inserted (MRW, 2012).

New content Copyright © 2013-2021 by the IEEE Computer Society and the Institute of Electrical and Electronics Engineers Inc.
All rights reserved. This material may not be reproduced or redistributed without the express written permission of the copyright holder.