James Birkenstock
Born May 7, 1912, Burlington, Iowa, key motivator to IBM's entry into the electronic computer business. [Cited by Watson, Jr., 1990.]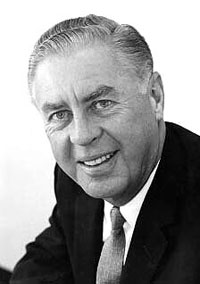 Education: BSc, University of Iowa, 1935.
Professional Experience: IBM Corp., 1935-1973.
Honors and Awards: member, President Johnson's Commission on the US Patent System; Distinguished Alumni Award, University of Iowa; Distinguished Service Award, Computer and Business Equipment Manufacturers Association (CBEMA); Distinguished Service Award, Electronic Industries Association; LLD, Fairfield University.
Birkenstock joined IBM Corporation in 1935. His combined work experience of almost 38 years with IBM plus 17 years as a management consultant totals 55 years. For more than 40 years he was engaged in all phases of technology asset management and technology transfer, primarily within the field of information processing.
His work experience with IBM was that of data processing salesman, branch manager, general sales manager, executive assistant to the president of IBM, executive director of market analysis and product planning, and vice president of commercial development. For more than 20 years prior to retirement from IBM in 1973, he was IBM's ranking senior officer/executive responsible for directing all phases of management of IBM's intellectual property rights, including IBM's relations with foreign governments pertaining thereto.
In 1973 Birkenstock formed Intercal, Inc., a management consulting firm specializing in the field of technology asset management, and in this capacity served a number of high technology clients operating primarily in the field of electronics. He has been given recognition by IBM and others for his pioneering efforts in connection with IBM developments in the field of electronic data processing.
Thomas J. Watson, Jr., in his book Father, Son & Co., describes Birkenstock as an indispensable member of IBM's "inner circle." He credits Birkenstock with being the key motivator in IBM's entry into the electronic computer business in 1950, and for conducting the tedious negotiations with the Japanese government, which led to the establishment of IBM Japan as a Japanese-validated, wholly-owned IBM subsidiary in 1960.
During 1965-1966 Birkenstock was appointed to and served on President Lyndon B. Johnson's commission on the US patent system. For more than 10 years, while with IBM, Birkenstock served as a director of the Computer and Business Equipment Manufacturers Association (CBEMA) and was for a 2-year period chairman of the board of the association. He was also cited for distinguished service to the Electronics Industries Association, and was awarded an honorary life membership in this organization.
Birkenstock served as a Director of the IBM World Trade Organization from 1966 until his retirement from IBM in 1973. He is a former member of the board of directors of Motorola, and is currently director of the Harris Bank of Florida. He is a trustee of the Charles Babbage Institute and Fairfield University.
BIBLIOGRAPHY
Biographical
Bashe, Charles J., Lyle R. Johnson, John H. Palmer, and Emerson W. Pugh, IBM's Early Computers, MIT Press, Cambridge, Mass., 1986.
Hurd, Cuthbert, "Early IBM Computers: Edited Testimony," Ann. Hist. Comp., Vol. 3. No. 1, 1981, pp. 163-182.
Pugh, E.W., Memories That Shaped an Industry--Decisions Leading to IBM System/360, MIT Press, Cambridge, Mass., 1984.
Watson, Thomas J., Jr., and Peter Petre, Father, Son & Co, Bantam Books, New York, 1990.
UPDATES
Portrait inserted, MRW, 2012.
James Birkenstock died on May 12, 2005, in Village of Golf, FL. (THVV, 2017)

New content Copyright © 2013-2021 by the IEEE Computer Society and the Institute of Electrical and Electronics Engineers Inc.
All rights reserved. This material may not be reproduced or redistributed without the express written permission of the copyright holder.