Charles A. Phillips
Born 1906, Hastings, Neb.; died March 8, 1985, Washington, D.C.; chairman of the CODASYL committee and leader in the creation of Cobol- recipient of Howard Bromberg's tombstone.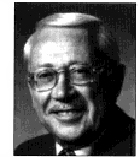 Education: Hastings College and University of Nebraska.
Professional Experience: Colonel, US Air Force, 1941-1946; US Treasury Department, US State Department, Department of Defense, 1946-1962; vice president, Computer and Business Equipment Manufacturer's Association (CBEMA), 1962-1972; director, Management Consulting Services, Lybrand, Ross Brothers, and Montgomery, 1972-1976; consultant, CBEMA, 1976-1980; real estate agent, Begg Realtors, Bethesda, Md., 1980-1985.
Phillips was the first chairman of the executive committee of the Conference on Data Systems Languages (CODASYL), which initiated the development of the programming language Cobol. He was also past chairman of American National Standards Committee X3, Information Processing Systems, which pioneered the concept of common industry standards for the computer industry. Under his chairmanship Committee X3 developed standards for the programming languages Fortran and Cobol, the American Standard Code for Information Interchange (ASCII), punched cards, and several other firmware standards.
QUOTATION
Phillips coined the phrase "do not fold, spindle or mutilate!"
BIBLIOGRAPHY
Biographical
Phillips, Charles A., "Recollections on the Early Days of Cobol and CODASYL: Reminiscences (Plus a Few Facts)," Ann. Hist. Comp., Vol. 7, No. 4, Oct. 1985, pp. 304-309.
Bromberg, H., "...the Story of Sending the Cobol Tombstone to Charlie Phillips," Ann. Hist. Comp., Vol. 7, No. 4, October 1985, pp. 309-310.

New content Copyright © 2013-2021 by the IEEE Computer Society and the Institute of Electrical and Electronics Engineers Inc.
All rights reserved. This material may not be reproduced or redistributed without the express written permission of the copyright holder.