John M. M. Pinkerton
Born August 2, 1919, London; took a leading role in the design and construction of the LEO I at Lyons & Co. in Great Britain.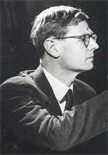 Education: BA, natural sciences, Cambridge University, 1940; PhD, Cavendish Laboratory, Cambridge University, 1948.
Professional Experience: engineer, LEO Computers Ltd., 1948-1963; head, research, English Electric Computers, 1963-1968; ICL, 1968-1984.
Honors and Awards: fellow, British Computer Society; fellow, Institution of Electrical Engineers; DSc (Hon.), Loughborough University, 1990.
John M.M. Pinkerton was educated at King Edward VI School, Bath, and at Clifton College, Bristol. He entered Trinity College, Cambridge, in 1937 to read for the natural sciences tripos, graduating in 1940. He spent the war years on radar research. Returning to Cambridge in 1945 he studied ultrasonic absorption in liquids, using a pulse technique at the Cavendish Laboratory; he submitted a PhD thesis in 1948.
He was in charge of the engineering aspects of the development of LEO I, LEO II, and LEO III, and a director of LEO Computers Ltd. when it merged with the Computer Department of English Electric in 1963. LEO (Lyons Electronic Office) was inspired by and based on Maurice V. Wilkes' pioneering EDSAC and was one of the first electronic computers designed specifically for commercial rather than scientific use. Until 1968 he was head of research for English Electric Computers and, from 1968 until retiring in 1984, worked for ICL. He was a member of the team planning ICL's 2900 range and later acted as technical consultant on marketing strategy. He was the representative until retiring, first of LEO Computers, then English Electric Computers, and finally ICL, to the European Computer Manufacturers Association, of which he was twice president.
As an independent consultant since retiring, he has edited a series of books on information technology for a British publisher and now acts as editor of the ICL Technical Journal. He is a fellow of the British Computer Society, and of the Institution of Electrical Engineers, and a liveryman of the Company of Information Technologists, a recently formed livery company in the city of London. In 1990 he received an honorary DSc from Loughborough University.
BIBLIOGRAPHY
Biographical
Bird, Peter J., LEO: The First Business Computer, Hasler Publ., Wokingham, Berks., UK, 1994.
Evans, Christopher, "Conversation: J.M.M. Pinkerton," Ann. Hist. Comp., Vol. 5, No. 1 Jan. 1983, pp. 4-72.
Lavington, Simon, Early British Computers, Digital Press, Redford, Mass., 1980. See Chapter 13: "LEO and English Electric."
Pinkerton, John M.M., "The Evolution and Design in a Series of Computers, LEO I-III,"Computer Journal, Vol. 4, Apr. 1961, pp. 42-46.
Pinkerton, John M.M., "Taming Leo," IEEE Review, Jan. 1991, pp. 13-17.
Simmons, J.R.M., LEO and the Managers, MacDonald, London, 1962; reviewed in Ann. Hist. Comp., Vol. 2, No. 4,1962, p. 382.
Significant Publications
Pinkerton. J.M.M., "Operating and Engineering Experience Gained with LEO," Automatic Digital Computation, Proc. Symp. Held at NPL, March 25-28, 1953, H. M. Stationary Office, London, 1954, pp. 21-34.
UPDATES
Pinkerton died December 22, 1997 (MRW, 2012)
Portrait added (MRW, 2013)

New content Copyright © 2013-2021 by the IEEE Computer Society and the Institute of Electrical and Electronics Engineers Inc.
All rights reserved. This material may not be reproduced or redistributed without the express written permission of the copyright holder.