Heinz Rutishauser
Early Swiss computer scientist who worked on Konrad Zuse's Z4 and developed his own two-dimensional programming system Plankalkul--not to be confused with Zuse's own earlier system of the same name.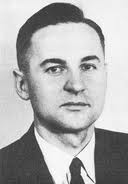 BIBLIOGRAPHY
Biographical
Bauer, Friedrich L., "Between Zuse and Rutishauser-The Early Development of Digital Computing in Central Europe," in Metropolis, N., J. Howlett, and Gian-Carlo Rota, A History of Computing in the Twentieth Century, Academic Press, New York, 1980, pp. 505-524.
Schwartz, H.R., "The Early Years of Computing in Switzerland," Ann. Hist. Comp., Vol. 3, No. 1, 1981, pp. 121-132.
Significant Publications
Rutishauser, H., et al., Programmgestuerte Digitale Rechengerate (Elektronische Rechenmaschinen), Mitt. Aus dem Inst. f. Angewandte Mathematik an der E. T. H., Zurich, Vol. 2, 195 1.
UPDATES
Heinz Rutishauser was born 30 January 1918 in Weinfelden, Switzerland and died on 10 November 1970 in Zurich (MRW 2012). Portrait added (MRW, 2013).

New content Copyright © 2013-2021 by the IEEE Computer Society and the Institute of Electrical and Electronics Engineers Inc.
All rights reserved. This material may not be reproduced or redistributed without the express written permission of the copyright holder.